Ratoath Wheelers Cycling Club was established in 2014 to promote cycling in the Ratoath, Dunshaughlin and Ashbourne area. We run 3 weekly spins setting off from Sweeney's Centra, with routes, distance, and pace to suit rider abilities and the prevailing weather conditions.

Our affiliation with Cycling Ireland means our cyclists are insured and our spins are conducted to meet and exceed best practice.
On the first Saturday of every month we run a Newcomers Spin so, whether you are an experienced rider or are new to cycling, contact us and we will ensure that you get off to the best possible start.
For riders under 18, we are happy to recommend the excellent juvenile programme run by our neighbours Inspiration Cycling Club in Dunboyne.

"I started cycling 2 years ago and was anxious about being in a group on the road. Joining the cycling club was the best thing I've ever done. My cycling has improved, my confidence and fitness improved and I really look forward to the spin every Saturday."
— John Lalor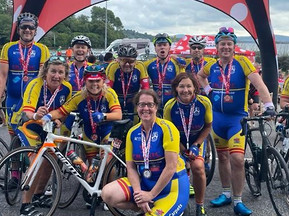 "When I first joined RWCC in 2015, I knew only one other person in the club. The welcome I got from everyone was fantastic and today I count many members as friends - both on and off the bike"
— Dermot Lamb